Coming up with copy for your Facebook ads can be a really time-consuming task, and if you want to run multiple campaigns testing out which one does best is stressful.
But you can make this process go a lot smoother with the help of some copywriting tools.
This is not a get the perfect results kind of tool in fact anyone that tells you that they have the best copy for an ad is lying. there are too many variables to take into account for it to be that precise.
But as I said before you can make the process a lot easier with the help of some tools.
AI AD COPY GENERATOR
Artificial Intelligence is getting better by the minute and you can actually leverage its power on the internet. It not only processes data way faster than you could but it gives you the best running stats currently on the internet.
This takes a lot of guesswork out of the planning of your campaigns and ads.
IS AI TECHNOLOGY WORTH YOUR TIME?
Yes, this is a process jumping tool that can shorten your success time by almost 10 months, the main downside is that you won't learn why the copy works and you are put at a disadvantage against competitors.
WHO CAN BENEFIT THE MOST FROM AI-GENERATED AD AND ARTIFICIAL INTELLIGENCE CONTENT GENERATOR
I would say the whole content creation world can benefit from these programs, but let's get more into depth about who and how can they actually benefit from artificial intelligence content creation software.
I want to list some types of uses for AI-generated content, this way if you see one task that you have done several times you will know that this can help your workflow.
Article Generator
Language model
text generator
Neural network
Machine learning
AI writing
Content marketers
Content marketing
Scripting
Ad scripting
Video content
Seo writing
Social media management
Blog post
Image alt text
Idea generator
Product description
Unique content
Twitter
And as you can imagine the list goes on.
PRODUCT DESCRIPTION
If you bought products online you have noticed that the product description is of the most important to sell the product. If your product is online the product description must be SEO optimized for the keywords that you want it to rank for. and coming up with description text that contains these keywords is not that easy for a human.
But what if I told ya that you could enter some data your keywords and in with the push of a button get the product description you need for your product.
Amazing and yet this is already possible with ai content generators such as ai writer, copysmith, and many other article generators online.
CONTENT CREATORS
an ai text generator is not Hemingway for sure and if you are a creative writer your job will be most difficult with these ai text generators. mainly because they do not capture the emotion in the text, and that just for now I do think they will get better with time.
But getting ideas and working them styling them and making them exceptional pieces of content here is where artificial intelligence can really help creators.
you can find a whole suite of ai tools that create blog post in minutes with pretty accurate results. and it also depends on what you think is accurate.
it will create unique content for blog post and social media it might not be the best since you have to get the reader's attention and keep them interested this is where the ai my lack.
ADS AND CAMPAIGNS MANAGERS
If you don't want to become a repetitive machine with your copy this is where an actual machine can help you out.
these ai powered tools can help you come up with multiple captions and hooks for your ads. making the testing phase a lot easier and more productive.
natural language processing is difficult to do when you work with AI but natural language processing is not always the best case to go about writing ad copy
all of the tools mention here have text generation systems that can help you achieve the desired goal, and I can't stress enough that it helps you test tons of ideas with the same creatives.
some of them have an image generator to also help you select the best image for your text and this is also a time saver.
IS AI-GENERATED COPY ORIGINAL?
To simply put it is a YES and also A NO! a bit wierd is in it. the thing is that the copy that it generates is taken from the research that it makes online. Therefore the copy is totally original but the base is not.
And you actually want this, because you don't want to reinvent the wheel you want to make it faster better looking, and more attractive than the rest.
In fact, you can run the copy by any plagiarism software and it will surely pass with flying colors.
You can check out our post on The Ultimate Plagiarism Checker Guide for more information on how to do this.
CAN SEARCH ENGINES TELL IF THE TEXT IS AI GENERATED?
search engines read the text after you have uploaded it to a blog, webpage, or ad. it can only recognize if it's duplicated content on the web, and that s pretty much all it can do.
Remember that there are web pages with duplicate content but thanks to the context of the article it does not get penalized by the search engines this is why you must not copy-paste exactly from other content this is called plagiarism.
check the link to the Plagiarism guide.
DO AI POWER TOOLS HAVE APPS?
yes most of them manage an app and some have chrome extensions and can even post directly to some platforms.
FOR WHAT PLATFORMS CAN THIS AI GENERATE COPY?
AI has to take examples from someplace to start. What I mean is that it needs a huge database to start analyzing the information and follow the instructions given by the programmer on what the end goal is. In this case, is to create better-converting copy for your ads.
The platforms with the biggest databases were the logical option to test the AI to conduct its instructions.
So currently the platforms that it excels at are:
FaceBook
Instagram
Google Ads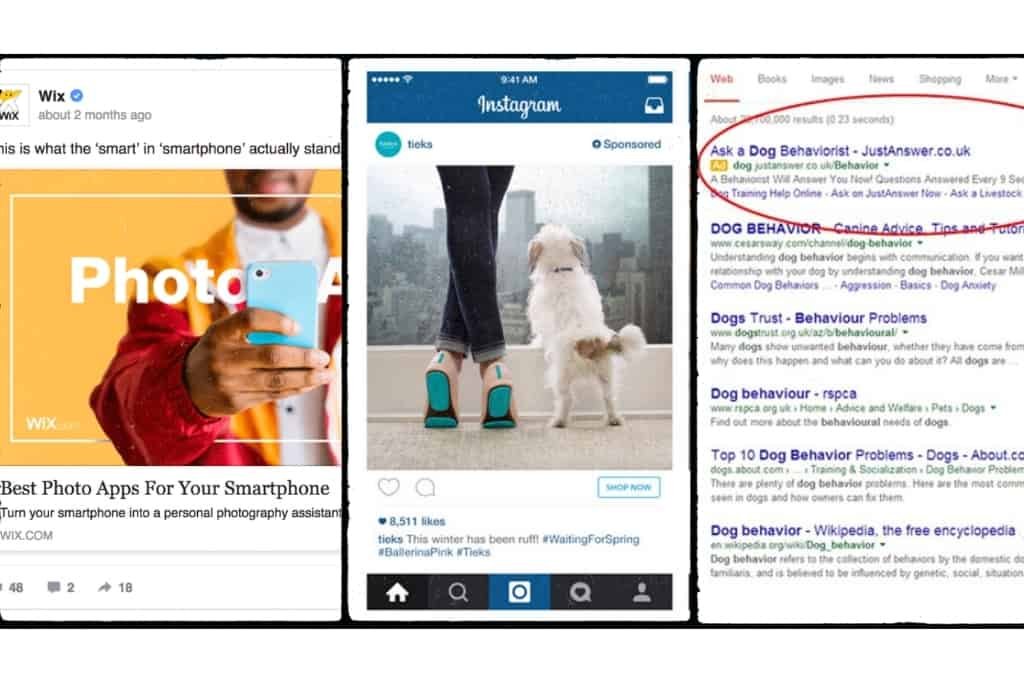 HOW TO USE AI-GENERATED CONTENT
How can AI help you or in what tasks can it be used to make your life easier and a lot of pain-free when you are creating content.
BLOG IDEAS AND HOOKS
While using Ai generated tools you will get a ton of new ideas for blog posts or content, It can also help you generate Hooks these are important to get your reader's attention so your click-through rate can be optimized. You need to grab the attention of your ideal reader.
AD DESCRIPTIONS AND IDEAS
If you have to run ads this is the best way to go about it. generate 10 ad copy and test them out in bulk you will shorten your timeline at least by 30% when you do this. Different types of captions and ad copy combine with good visual creatives will get you better results.
SOCIAL MEDIA MANAGEMENT
AI-generated content is perfect for Instagram you can get captions and copy and alternate it with the images to see what works better. Instagram organic reach is in a downward slope so make sure you get all you can out of it.
CUSTOMER PAIN POINTS
AI can help you identify customer pain points and with this advantage, you can sell the solution to those pains making your ads more effective.
BUSINESS IDEA GENERATOR
so we are heading to reverse engineering your business. you can see what copy trends are taking over the market and this way you can tailor a solution to that market that is looking for that business already.
WEBSITE COPY OPTIMIZATION
Don't lose your current work to time, Ai can help you revamp your website copy and style it to suit your ideal customers better. you can imagine how drastically your website copy can improve your sales with simple changes.
HOW WELL DOES AI-GENERATED COPY PERFORM?
Let's be honest they're quite a few variables to make a successful Ad and one of them is the copy. But here we are talking about AI-Generated Copy so I will stick to that. 
What is the main goal of copy in an AD, its fairly simple its to get clicks to your link, promotion, offer, or the type of campaign that you are running?
So what is the stats of its performance? I will give 3 options so you can compare how it performs and what these options are.
Beginner Ad Copy Creator
Season Ad Copy Creator
Ad Agency Level
First of all, let me tell you that the other variables have a lot of weight on the performance of the ads. 
What are the other variables you may be thinking of? ok here is a shortlist of them and let me tell you there is a lot of components to the ad game.
Visual Creative
Audience
Offer Value
Market Cap
AI VS BEGINNER AD COPY CREATOR
In this case, it has 83% or better performance than the beginner.
AI VS SEASON AD COPY CREATOR
This has a 67% better performance than an experienced copy creator
AI VS AD AGENCY LEVEL
Agency can expect about 46% of increased performance on their ads. but mainly because they can test out more variation on the copy.
WHAT ARE THE BEST AI PLATFORMS FOR AD COPY?
Here are some of the best performing AI for Ad Copy generation. You must take into account that even if you use AI-generated copy and content you must revise all the information.
There are various AI content generation platforms but one of them excels in ad copy generation.

this platform is dedicated to the analysis and ai creation of ad copy. just imagine an AI that searches and analyses hundreds or thousands of ads, and seeks the best-performing ones to generate the best copy for your offer.
You would have an AI assistant at your disposal.
One of the coolest things about this platform is that is created by copywriters, so they pretty much know what to look for and what you actually need to get the copy that is right for the occasion.
they claim on their web page:
Our platform was developed by a team of award-winning copywriters, marketing experts from some of the world's top agencies, and AI researchers from global tech giants. The more you interact with the generated copy, editing and refining, Copysmith adapts to your style
after testing it a bit, you do notice that it molds to your writing and this is very powerful, if you manage the ads for a brand you want your copy to be in the same line to keep your brand identity.
One of corysmith features is that you can create a team of collaborators on your projects. you can leverage your time this way giving each  team member the capacity to focus on their specific task.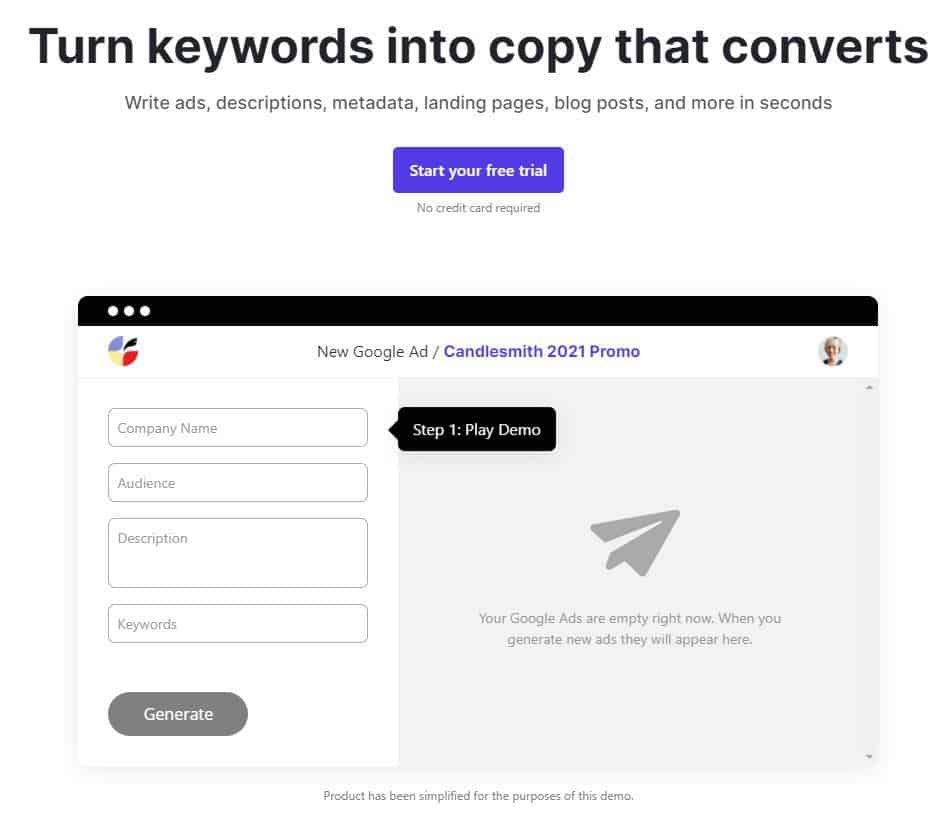 WHAT ABOUT COPYSMITH PRICING
if you are starting out you will be happy to hear that you can start for free! and if you want to check out that offer click here!
and if you decide that this tool is one of the must-haves on your toolbelt well the starter package will set you off just 19 dollars a month and with this, you can create about 500  pieces of original content.
But if you get the yearly plan your monthly payment drops to 16 bucks.
Or if you are an agency it can run you up to 424 dollars a month on the yearly plan. 
so it all depends on your budget and goals.
This platform also developed a chrome extension, and it's truly like having a copywriter in each tab you open. you can information about the type of ad and the relevancy of each copy.
its perfect for brainstorming new ad copy ideas while you surf the web.
AI ALTERNATIVES FOR CONTENT CREATION
I want to give you some alternatives that are equal or better than copysmith.
Disclaimer: The results of every tool can vary depending on your skill level and proficiency with each tool.
This tool can help you with multiple tasks.
Using advanced artificial intelligence and deep learning, Article Forge writes completely unique, on-topic, high-quality articles with the click of a button.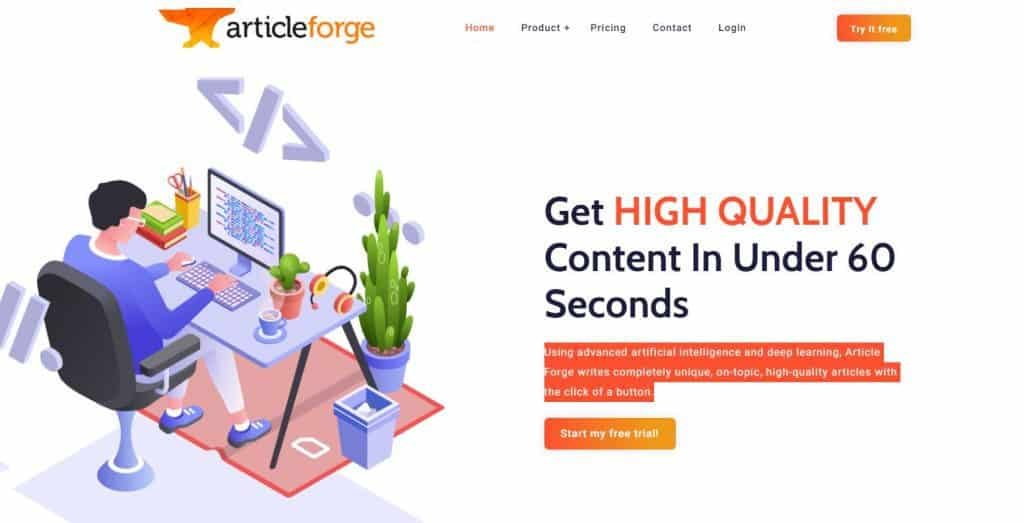 Think of Article Forge like a freelance content writer; you give it a keyword phrase and you get back a unique, relevant, high-quality article. However, unlike a freelance writer, you'll have a finished article in under a minute at a fraction of the cost.
CONCLUSION:
no matter how good the tool is you still have to put in some work to optimize your results. and please never forget to keep testing new ideas some will fail others will work. and you have to pile up the ones that work.
please remember to share on social media, also check out our home page there are tons of interesting posts.