A custom sales funnel used to be built by developers only for business and marketing professionals.
The process is oversimplified luckily, with automated tools like Autofunnel by GetResponse allowing us to automate much of the process.
Because of them, we are now able to handle all of our e-mail marketing campaigns without depending on agents and build sales funnels from scratch.
There may be a preference based on how much experience you have, how many requirements you have, and how much you can spend on the needed tool.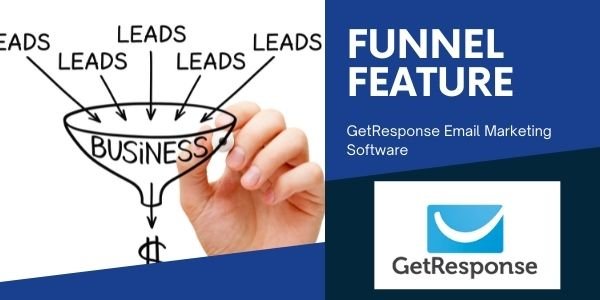 What You Need To Know About AutoFunnel
Imagine it as a ready-made, automated method for building landing pages, automating emails, selling products, recovering abandoned orders, and generating revenue.
Multiple GetResponse features are integrated seamlessly into one flow – AND it adds some new exciting features that you've always wanted in GetResponse.
GetResponse Autofunnel is an all-in-one tool that helps you build sales funnels without having to create them from scratch.
The tool helps you sell physical as well as digital products online using pre-made and tested sales funnels.
By using Autofunnel, you can build a list of contacts, showcase your offers, build sales, and improve your conversion rates with over 40 conversion-optimized scenarios written by industry experts.
The software offers email sequences and landing pages that have been tested to sell any product. By eliminating guesswork, it makes it very easy to set up a funnel.
Compared to platforms like Clickfunnels, GetResponse Autofunnel is much easier to use.
A good email marketing service should have everything you need. GetResponse does. The new Autofunnel has some additional features that are useful and interesting, such as:
Landing pages
Drip emails
Web forms
E-commerce integrations
Webinars
Automated order confirmations
Stores for your products
Sales pages
Exit-intent popups
Abandoned order emails
Multiple payment processor integrations
The GetResponse dashboard provides the ability to create landing pages, stores to list your products, sales pages, confirmation pages, pop-up forms, and webinars. That's pretty extraordinary.
GetResponse integrates with your e-commerce store so that features like abandoned cart recovery and follow-up emails can be used. You can also track web events and send emails based on actions on your website.
Is GetResponse better than ClickFunnels?
First, let's take a look at Clickfunnels. For starters, you need to realize that Clickfunnels has been leading the funnel-building industry for quite some time, but that doesn't mean it can't be beaten by its competitors.
Although the tool is not perfect, it does have some advantages and some disadvantages.
Possibly what I like most about it is its ability to act as a personal sales machine by converting your website visitors into sales immediately.
Choosing the template blocks for your site, sketching a design, and then adding images are all you need to do.
If you don't like doing things on your own, you can always.
It is also a complaint of many reviewers that it restricts you to a maximum of 20 funnels, 100 pages, and 20,000 visitors per website. They dislike that Clickfunnels is so expensive.
I think a funnel builder is a fantastic tool, but I worry about it the price when compared to others.
Another thing the reviewers don't like about Clickfunnels is the fact it limits you to use a maximum of 20 funnels, 100 pages, and 20,000 website visitors. For $98 per month, you should get a lot more.
What about Autofunnel by GetResponse?
While GetResponse is suitable for those on a budget, it is most suitable for people who are looking for an e-mail marketing tool and a funnel builder with a more reasonable price tag.
It is one of the most popular email marketing platforms and has been used by many marketers for many years.
It has become a complete package of tools for internet marketers over the years, and it has improved quite a bit.
This tool can be used to create landing pages for your website, create webinars, create funnels, and manage your email marketing on top of that.
So, which one would be best for you?
It is true that ClickFunnels and GetResponse are different tools, but their goal is the same – to provide you with an instrument that will help you to attract more prospective customers and for those prospects to become loyal paying customers.
In that case, I can point out the most compelling features of both funnel builders and let you make your own decision.
This does not mean that you should also use GetResponse.
My recommendation would be to go with Clickfunnels if money is no object, but if you're like me and you're looking to save some money, then Autofunnel by GetResponse would be a better choice as well.
How much does GetResponse cost?
You can scale things as you go along with GetResponse's pricing based on your mailing list size.
Accordingly, the BASIC plan should be sufficient for small businesses or individuals that do not need a lot of features and do not want to spend a lot.
We don't see a great deal of difference between the BASIC and PLUS plans aside from the ability to add more users and use the conversion funnel feature.
There is a real leap between PLUS and PROFESSIONAL.
Web event tracking is included in PROFESSIONAL for eCommerce and online shops, as is the abandoned cart feature.
If your checkout page has a lot of bounces, you may want to concentrate your efforts there, but your monthly plan will be quite a bit higher.
With GetResponse's freemium plan, you can send unlimited emails, set up autoresponders, and build landing pages/websites.
It's GetResponse Really Worth It?
In our view, it is worth it if you are planning to use all the features that the software comes with.
We encourage you to try their Landing Page Builder, it's one of our favorites and we still use them on our CPC campaigns.
I know having a lot of features can be overwhelming but if you take your time and by that, we mean that you at least allocate 5 days to train yourself on each tool the software offers you will get your money's worth tenfold.