If you haven't heard of the trendy social media website Facebook, you may have never surfed the web.
Since it was released back in 2004, they've accumulated a whopping 2.8 billion accounts.
Being able to accompany this many users can be difficult for any website to handle, and occasionally you may experience some issues with the practicality of Facebook. "Facebook won't let me post"
The most common problem I see floating around the web is "why won't Facebook let me post a status, like, or comment".
These actions are a big part of Facebook, so I understand why people want to rectify this problem. After conducting some research, this is what I found out. 
The reason your Facebook won't let you post a status, like, or comment can be because of several reasons. This could be because Facebook has blocked you from performing that action on a specific user's content, or you're generally experiencing app or browser issues.
Why Facebook won't let you post?

With issues like the above, there could be a boatload of reasons why you cannot perform these actions.
So you're able to grasp a better idea of why you're experiencing these problems, we go into detail about various situations and how to fix them.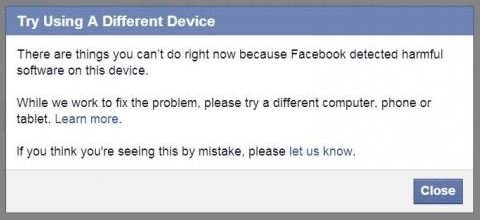 Reasons Why You Can't Comment, Like, or Share a Status on Facebook
Like all social media's, they can fall into unexpected issues for individuals depending on their circumstances.
This could be ranging from people blocking you, browser or mobile application problems.
Blocked – One of the main reasons you'll be unable to comment, like, or share a post will be because the end-user has blocked you from performing that action.
This could be a friend of a friend or another page sharing content to which you're banned from commenting or liking on.
To tell if you've been blocked by either a page or person, you can try searching for their name.
Typically, if somebody has blocked you, their profile will not show.
If it's revealed, for added confirmation, try to send them a message.
If they've blocked you, it'll show an error message which is similar to "This person isn't available at the moment".
Browser issues – Something else that can be causing this issue is your browser.
If you're an active user online, your browser memory can quickly become filled with some unwanted cache that may slow down the system's performance.
To quickly solve this issue, you'll need to head into your browser's settings and clear your cache.
If this doesn't solve the problem, try uninstalling and re-installing the browser to give it a reboot.
App problems – Lastly, these problems could be occurring due to mobile application problems.
This should be a simple fix by just closing the app entirely and activating it again.
If this fails to repair the issue, you can also completely wipe the Facebook app off your phone and re-install it once again.
In some cases, the app may have a corrupted file because of how it was downloaded.
This will also install the most up-to-date version of the app.
If you've encountered these issues and are still unsure why your Facebook functions aren't working, you can also message their customer service team.
They may be able to give you additional advice on why you cannot perform these actions, or alternatively, they might be able to fix it on the backend of the system.
How to Fix Being Unable to Post on Facebook
The above situation is about how to fix the liking, sharing, and commenting functions on Facebook, but we didn't mention anything about posting statuses.
If you've encountered a message that is something along the lines of "There was a problem updating your status" or "This cannot be posted on your timeline", you're probably experiencing status posting issues.
More often than not, this could be due to your internet connectivity, or Facebook is currently suffering from network issues.
This should pass over with a set amount of time, a maximum of a few hours.
However, if this issue was to continue for longer than a day, you should try the following to fix the problem.
Try Another Device
If you can, try to post a status on another device such as a laptop, tablet, or smartphone.
If the problem continues regardless of what device you use, you should report the issue to Facebook as there might be something wrong with your account that isn't fixable from the front end.
To do this on a web browser, you need to log into your Facebook.
Once logged in, you'll need to click the gear icon in the top right-hand corner of the timeline page and select 'Report a Problem'.
Once selected, it'll ask you to fill in details about your problem, fill this in and wait for their response.
Delete Browsing Data
Now, if you've tried to post a status through another device and it's successfully gone through, you may need to clear your browsing data.
This is super simple to do, and we'll be using the popular Google Chrome as an example.
To clear your browsing data on Google Chrome, you'll want to copy and paste this into your search box "chrome://settings/clearBrowserData" This will then direct you to the appropriate page.
Once you're here, you'll want to click on 'Clear browsing data' and make sure all 'Browsing history', 'Cookies and other site data' and 'Cached images and files' are selected (or ticked) before pursuing with 'clear data'.
Once you've successfully accomplished this, you'll need to close your browser and head back over to Facebook. Now you have loaded the site back up, you can then try to re-post your status.
Again, if this fails to post after clearing your browsing data, it's recommended that you contact Facebook's support team.
They may tell you to try this but explain you've already performed the data clearance, and they need to either fix it on the backend or come up with another solution.
Conclusion
There could be a variety of different reasons in which Facebook won't let you like, comment, share or post a status, but it should be easy enough to identify why.
The most common reason in which you won't be able to execute these actions is that the page or user has blocked you.
To find this information out, you should try the above solution.
All in all, if you've tried the above techniques of fixing your Facebook like comments, share, and post features, you should definitely contact Facebook.
Once reached, they'll be able to suggest additional solutions that you can try, or they could even fix the issue on their end.
You can check out our home page for more cool stuff click on this link Online Tool Guides