If you are a business owner or a blogger who wants to stay on top of your SERP and keyword rankings, then you need the Advance rank tracker.
This is a free tool that will help you keep track of where your website ranks for popular keywords in Google.
What is rank tracking and why do I need it?
Getting your content to rank on the first page of Google is not an easy task, and even more so to stay on it.
This is why rank tracking is fundamental for your SEO, knowing when your rank dropped is essential to study the competition and upgrade your content to stay relevant and more helpful than the rest.
Would you like to get notified when one of your positions get's change on google?
Set up notification alerts in your rank tracker and you will be able to see them live.
Rank Tracker also offers a great variety of data, such as backlinks, social shares, or linking domains that are leading the traffic according to Google's algorithm for that keyword and position.
This is not all! You can even get an instant overview of how many competitors there are at any given moment and what their rankings for this same search term are right now.
How often to rank tacking tools get updated?
Most rank tracking tools get updated daily, and some immediately since they are constantly tracking the keywords you have input into your tacker.
Can you tack your keywords for free?
Yes, you can track your own keywords by using Google's search console, but you will have to manually search each one and do manual tracking on the positions since it will only show you the last position and current position.
How Often do my SERP and keyword Rankings change?
Depending on your keywords volume and competition they can change daily or weekly. but it really depends on the algorithm.
What are the Best Rank Tracking Tools?
You can find Rank Tracking Tools on many keyword research tools today. I currently use a suite of tools from SEMRush, since it gives me a lot of functions.
The best way to keep track of your rank is via the Position Tracking tool, one of Semrush's most popular features.
The tool enables you to track SERPS and which keywords are ranking for your results, as well as what features they have. 
With this SEO tracker, you can view specific locations and types of devices as well as sort the data, compare your performance to those of competitors, and export reports.
here are some of the best features in their position tracking toolset: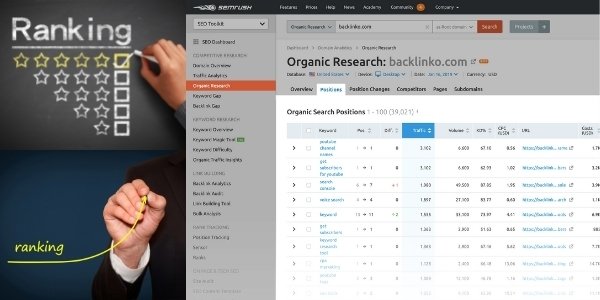 Filter by SERP Feature
It can be difficult to tell if SERP features are affecting the domain's click-through rate, so it's best to check periodically.
Furthermore, the quality of answers in the featured snippet that displays next to your search result can influence a user's decision to click on it.
There are many Google-rich results that help you get higher up on SERPs.
I would even say that these are "must-haves" for mobile SEO, where you have to stay on top of changes in the SERP Features.
In order to make the most of your SEO efforts, you have to know what SERP features matter and which ones do not.
The Position Tracking tool detects SERPs with the following SERP features:
Featured Snippet
Local Pack
Reviews
AMP
Site Links
Video or Featured Video
Top Stories
People Also Ask
Images
Twitter
Instant Answer
Knowledge Panel.
One thing to note is that you can see all queries, not just keywords.
It is important to know which SERP Features may decrease the visibility of your domain, such as whether or not paid ads are present.
If there's a lot of PPC in the search results, you might want to get your visibility through paid promotions rather than SEO.
Tracking Results in Local Pack 
One of the "good to win" SERP features is Local Pack, which can be helpful for local companies.
Local packs can be challenging to rank for because they often require a lot of off-page work, such as Google My Business page optimization.
If the local pack results are applicable to your business, make sure you set up a Google My Business page for all of your locations in order to see where it can appear.
Tags
Let's imagine we own an online store for sports equipment, clothing, and other goods. Our goal will be to rank on Google to help sell our products. In this case, we'll be tracking thousands of keywords for various product categories, international locations, seasonal occasions, genders, and ages.
To maintain sanity using your online resources, you'll need to use tags. Group your keywords into categories to help better organize them in the reports.
Tags can be added from the initial setup window (as seen below) or at any point while your campaign is running by opening the Position.
Customized Alerts
If you have a lot of changes coming your way, customize your alerts to tell you when specific things happen.
Alternative Tools To SEMRush?
Google Analytics is the best way to make sure that your advertising budget is being put to its best possible use. Advertisers can measure their ROI and track their ads in multiple ways, without any dark corners or blind spots where performance could be hidden.
Google Analytics also offers a variety of reports for comparing these metrics with one another so no part of your online marketing plan goes unnoticed.
HubSpot is the perfect marketing partner for your business.
They offer a full platform of the technology you need in order to become successful: HubSpot can help increase your revenue, market share, and customer base with their suite of products designed to reach specific segments via email and social media.
Whether you're spending too much time on tedious tasks or have been left lacking important information about how to keep up-to-date on the latest trends that are useful for business success, we've got your company's back; Hubspot is here for all of that!
Hotjar
We want to be nice and help you see the big picture because your conversions seriously depend on our feedback.
Hotjar will reveal what exactly your users are doing online, the challenges they're encountering, and how you can improve their experience for better results.
RankTrackr is the first and only rank tracker that allows businesses to track competitor rankings.
This amazing service includes detailed reports on keyword positions for all of your competitors, alerts for keywords that have seen increased traffic, as well as keywords with either a lack of competition or strong search popularity.
Rank tracking has never been easier – whether you're just starting out or an online titan!
Ahrefs is the best website audit tool ever! It has everything that you need in order to keep your SEO health on point.
Site Audit will diagnose any and all problems with your site, Alerts will let you know when new backlinks are released or lost, and Ahrefs Keywords Rankings List tells you what other websites rank for keywords related to yours.
Finally, we have a powerful web crawler that catalogs every single link available online – helping you find out who's linking to your competition but not to you (score!).
What Should You Do If Your Rankings Drop?
Analyze your competitor's content, so you can see what he's doing and try to improve on it so your content will bring more value.
you can do this by using SEMRush Competitor Analysis Tools
SEMrush for Competitive Analysis.
Finding out that a potential client is being opposed by their competitors online can be frustrating, but it doesn't mean you will lose the fight.
The Best part this tool is currently free so you should go and check it out!
Monitoring keywords
Keeping track of keywords ensures your web pages rank for specific keywords.
Goals vary from person to person, but ranking on the first page of a search result would be every SEOs dream, But We All Want To Rank on the Number 1 Spot on Google.
To make a change for the better, it takes an intricately crafted keyword strategy and consistent production of quality content. That's one of the more compelling reasons why keyword tracking is so crucial.
What Is Keyword Monitoring?
Keyword monitoring is any activity that tracks the position of your site based on some particular keywords. This process enables you to collect relevant metrics and data.
You typically want to rank on the first page for every keyword. Nevertheless, regular monitoring of those keywords and website ranking is necessary in order to detect conversions and undertake the appropriate steps.
Monitoring social media
A keyword monitoring system can provide unique insights and allow to discover the needs of your followers in social media.
According to Wordstream, keyword monitoring can help you gain a better understanding of how to tailor your content and communicate your brand effectively.
How Do I See What Keywords Competitors Are Using?
Competitive Keyword Analysis is a strategic means of competing in a saturated market and outperforming other businesses in your niche. A common question for people in the SEO industry is how to search for keywords from their competitors.
Monitoring keywords Tools
SEMRush
Search engine optimization is hard.
SEMRush Monitoring makes it easy. We'll track your keywords, domains, and competitors on Google so you can focus on what matters most to you – growing your business!
You don't have time to waste with complicated SEO tools that are difficult to use or outdated data. Our tool provides the best data available, updated daily, so you know exactly where your campaign stands at all times.
Plus we make it easy for you by providing clear visualizations of how well each keyword is performing in relation to other keywords in the same industry. It doesn't get easier than this!
Sign up for a free trial today and see why more marketers trust SEMrush than any other SEO software provider!
Conclusion
It's never too early to start thinking about your SEO strategy.
One of the most important things you can do is invest in a tool like SEMrush that will help you understand what keywords are driving traffic and where they come from.
With this knowledge, it becomes easier for you to create content tailored to bringing those users back again and increasing their time on site which signals Google that your website deserves higher rankings.
If there are any questions or if I can be of assistance, please don't hesitate to reach out!